Filter by Subcategory
Business & Skills Training
First Impressions Matter:Resume and Interview Preparation
with New Ventures

Apr 10, 2019 at 5:30 pm

, runs for 1 week
This workshop offers you current tools, resources, and guidance to write an effective resume and to prepare you for a successful interview.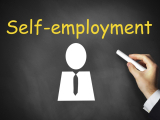 Intro to Self Employment
with New Ventures

May 9, 2019 at 5:30 pm

, runs for 1 week
This one-session workshop will help you decide if self-employment is the right choice for you. The class covers the pros and cons of owning your own business, the steps needed for start-up, the major elements of a business plan, and the many resources available to help you succeed.
Western Hills Access Television Introduction 101.
with Brooks Morton

Apr 9, 2019 at 5:30 pm

, runs for 4 weeks
W.H.A.T. is the Public Education & Government Media Broadcasting Community Television Station for the area. Learn how to use the station's equipment to film, produce, and edit events for your organization , business, or yourself. Once you are trained, the station has equipment available for use for sports, concerts, plays, special events, or just take on a hike.