Filter by Category
Tools and Trades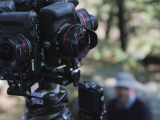 Western Hills Access Television Introduction 101.
with Brooks Morton

Apr 9, 2019 at 5:30 pm

, runs for 4 weeks
W.H.A.T. is the Public Education & Government Media Broadcasting Community Television Station for the area. Learn how to use the station's equipment to film, produce, and edit events for your organization , business, or yourself. Once you are trained, the station has equipment available for use for sports, concerts, plays, special events, or just take on a hike.