Filter by Category
Our Classes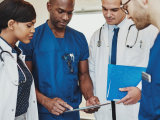 Registration Unavailable
Academy of Medical Professions
Price not
available
with Academy of Medical Professions

Jun 21, 2018
The Academy of Medical Professions is a licensed Proprietary School certified in Maine offering many correspondence/online courses with all lectures provided through audio or video streaming. You will be assigned an instructor for assistance.
Medical Office Specialist
Medical Coding
Phlebotomy Technician
Dental Assisting Program
Medical Transcription Certificate Program
to name a few.
TO REGISTER CALL 866-516-8274 or
http://www.academyofmedicalprofessions.com/
Leaf Impression Bowls
with Joshua Rysted

Aug 18, 2018 at 1 pm

, runs for 1 week
Created by nature and captured in clay by you. In this one-day hand-building course, you will create your own unique leaf impression bowl using leaves from trees in your yard or plants in the garden. Press the leaf into a clay slab to leave a detailed impression and then form it into a bowl for a one-of-a-kind creation. Your finished project will be microwave and dishwasher safe and glazed in your choice of color. It will be ready for pick up approximately two weeks after class. No previous clay experience is required for this class. All tools and supplies will be provided by the clay studio.
Full Course