Filter by Subcategory
Business & Skills Training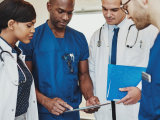 Registration Unavailable
Academy of Medical Professions
Price not
available
with Academy of Medical Professions

Jun 21, 2018
The Academy of Medical Professions is a licensed Proprietary School certified in Maine offering many correspondence/online courses with all lectures provided through audio or video streaming. You will be assigned an instructor for assistance.
Medical Office Specialist
Medical Coding
Phlebotomy Technician
Dental Assisting Program
Medical Transcription Certificate Program
to name a few.
TO REGISTER CALL 866-516-8274 or
http://www.academyofmedicalprofessions.com/