Filter by Category
Computers and Technology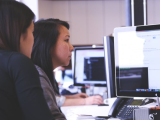 Computer Basics
with Mark Brousseau

Feb 6, 2019 at 6 pm

, runs for 3 weeks
Are you struggling with using your computer? Work with our computer teacher in a friendly, informal small group setting to learn the basics of using a computer. No pressure – and no experience necessary! Topics discussed will include setting up a computer to print, using the Internet, and basic troubleshooting techniques. Computers are available for use during class
Excel II
with Bill Schuellein

Jan 31, 2019 at 6 pm

, runs for 5 weeks
This is a great follow up to the Excel Basics Workshop. Increase your efficiency by learning how to organize, display, and calculate your data into useful information. Topics to include sorting, filtering, charts, graphs, tables, forecasting and other home and business applications. Computers are available for use during the class.
Intro to QuickBooks for Home & Office
with Bill Schuellein

Mar 6, 2019 at 6 pm

, runs for 4 weeks
This easy to use, full-featured accounting system is perfect for the home or small business owner. Keep all of your information in one location so you always know where you stand financially. Review basic accounting principles, get organized, balance your checkbook, manage budgets, track expenses and inventory, pay bills with ease, and have more time for managing your home and business. Software for home use is included with the class for the duration of the class. Prerequisite: Computer Basics course or equivalent experience, being comfortable using the keyboard and working in a PC-Windows environment. Computers are available for use during the class.