Filter by Category
Health & Wellness
Country Heat LIVE
with Alice Deegan

Jan 27, 2019 at 2 pm

, runs for 4 weeks
Experience the class that everyone is lining up for. Step right into the easy to follow, exhilarating country dance inspired workout. No complicated moves, no memorizing routines, just follow along to enjoy the low impact, high energy dance classes set to the hottest country hits. You'll have so much fun stomping, clapping, and laughing, that you'll forget you're burning mega calories and toning your body from head to toe. Enjoy some well-deserved "ME TIME"! Wear sneakers and bring water.
Will run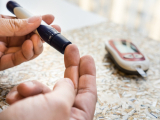 Living Well with Diabetes
with Valerie Cole

Feb 26, 2019 at 1:30 pm

, runs for 6 weeks
Living Well with Diabetes is a 6-week workshop series. It is focused on helping participants manage their Type 2 Diabetes and symptoms. The workshop is facilitated by trained community members, many of whom have diabetes themselves. Participants have reported less pain, more energy, and fewer hospitalizations. We will be giving you tools and tips you need to manage your diabetes, live a healthier life, and take back control.
Tai Chi for Arthritis and Falls Prevention
with Jackie Cressy & Karen Reilly

Jan 22, 2019 at 2:30 pm

, runs for 8 weeks
Are you interested in a low-impact exercise program to improve flexibility and balance? Tai Chi movements are slow, controlled and gentle, emphasizing body alignment, weight transfer and internal focus. Both easy to learn and do, the forms are designed to improve flexibility and balance; enhance relaxation; increase strength and flexibility; develop better breathing; and improve overall health. Tai Chi improves your balance and significantly reduces the rate of falls in older adults. Movements can be done seated or standing making it ideal for people of almost any age or physical condition. Registration required. No enrollment accepted after first week of class.
Full Course