Filter by Category
POTTERY
Pottery; Try Out the Potters Wheel Session II
with Joshua Rysted

Apr 21, 2023 at 6 pm

, runs for 1 week
Experience working on the potter's wheel in this two-hour session for adults. Working on the wheel is an age-old practice of using your hands and a spinning wheel to create useful and beautiful objects out of clay. You will learn the basics of centering the clay on the wheel, opening the form, and pulling up the walls to make everything from bowls to vases. Up to three completed pieces per person. 
When:  Friday, April 21, 2023 Time: 6:00pm - 8:00pm
Where: The Pottery Studio Tuition: $40.00 per person for 1 week
Full Course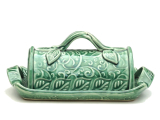 Pottery; Butter Dishes!
with Joshua Rysted

Apr 22, 2023 at 10 am

, runs for 1 week
Don't you just love butter? It is so good to cook with and spread on warm bread. Butter is so wonderful that it deserves a fancy place on your counter. Get rid of that old plate with the chipped edge and come create your very own covered butter dish.
When:  Saturday, April 22, 2023 Time:  10:00 am – 12:00 pm
Where: The Pottery Studio Tuition: $40 per person for 1 week
Will run